Kenwood or Trio TS-900 Service Manual and VFO-900
I recently picked up two old Trio TS-900 transceivers from around 1973, complete with matching PSU / speaker.  One works well, the other needs some TLC and, I suspect, some restoration work.  The operators manual, which I have, has a great deal of technical information but the service manual I understand, is twice the size; do you have a digital or hard copy I could borrow or buy?
I'm also looking for the matching separate VFO, Trio VFO-900…it may also be labelled Kenwood VFO-900.  If you have one you'd like to part with, please get in touch.  It should have a matching lead as shown…the UK VFOs have a silver front and are simply Trio VFO-900.
There was also a review in the July 1973 issue of QST which I'd like a decent scan of…the PDF library from the ARRL is low quality.
Pye Westminster W15FMD on 2m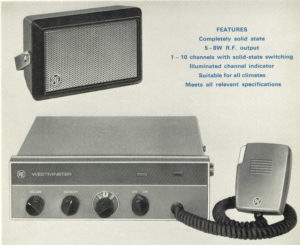 I have one of these that I picked up from the local radio club.  It has a good, but limited, channel selection however my local repeater on R6 is missing.  I have the transmit crystal but need the receive crystal which is HC6/U and on 45.01666MHz; have you any in a drawer somewhere?
I only have the service manual in a rather scruffy photocopied file.  So, I'm looking for an original one of those too.  It's just a bit of nostalgia 😉
Wood and Douglas…amateur radio from the 70's and 80's
Have you got, lurking in a box, on a shelf, in a file, in your garage or in your loft, any documentation for the old Wood and Douglas amateur products from about 35 years ago?
Any complete, part made or unmade kits and modules would also be welcome…even the PCB's.
They used to make VHF and UHF products in kit form for the radio amateur – receivers, transmitters, synthesisers, amplifiers and even repeater modules.  I'm hoping to build up and archive to post here on line, for everyone to have access to.
Please have a dig around…they sold hundreds of kits.  Drop me a line on the 'CONTACT' page if you can help.
Update as of July 2017: I now have a considerable amount of information to scan and make available, including the early company history.
ICOM IC-502A and IC-215
I already have an ICOM IC-202S and IC-402…and a slightly weary IC-215.  I'd like to find a nice IC-502A, which I know is rather scarce, and a good IC-215, which nobody seems to want, to complete my collection.
Does anyone have either item that they would like to part with?
Please get in touch via the 'CONTACT' page if you do.  Thanks.