AVO No 1 Radiac Survey Meter or Geiger Counter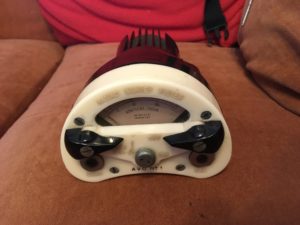 If you attend Ham Radio Rallies in the UK, especially in the North East of England, you will know Alan Clegg a.k.a. 'The Valve Man'. He bears a striking resemblance to Santa Claus and, quite often, helps people find wonderful things that bring a smile to their faces…just like Santa Claus.
I visited Alan the other day and he was proudly showing me some of his latest acquisitions…one of which was this AVO No 1 Radiac Survey Meter or Geiger Counter to you and I. His is Serial Number 9, so there were at least 8 others in the wild at one time. Are they extinct except in captivity? Alan is looking for more information if you can help…in the past, people keep giving him details for the No 3 version which is different…as are the other variants.
I've posted some pictures here…if you can help, please get in touch with either myself via this website's contact form, or Alan if you know him.  If you contact Alan direct, please let him know you saw the request here, and let me know, via the website contact form, that you've helped him so I can update this page.
Thanks.