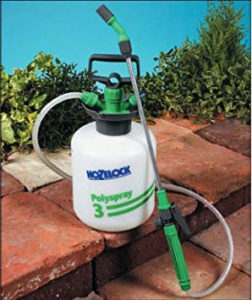 I really don't like throwing things away that can easily be repaired…especially when they are well made. Sadly, many of the manufacturers make it difficult and costly to get spares.
I have an old Hozelock Polyspray 3 garden sprayer for weedkiller and the like. It works well and it's easy to carry around.
The rubber O ring that seals the combined pump and handle to the jar section perished. No chance of getting one from Hozelock for this model and none on Amazon or eBay.  The other O rings and seals were fine.
I did eventually find a perfect replacement for my Hozelock Polyspray 3 O-ring from George Lodge and Sons on…eBay.  It's their 'O Ring Metric Nitrile 40mm Inside Dia x 4mm Section'.  The stock code on my bill shows '40 x 4′.  Their eBay user ID is 'lodge6204' and they have a range of O rings.  The item number was '123733812298' but I expect that won't be valid for long.
I realise this is no big deal but maybe someone else is wants to continue using their Hozelock Polyspray 3.  The part costs just over £2-00 (including postage) but a new sprayer will set you back over £20-00.